How does "seamless underwear" achieves "seamless"?
Nov 15, 2021
How does "seamless underwear" achieves "seamless"?
As for clothing that women wear frequently, the comfort of underwear has a very important impact on women's health. As people's requirements for the quality of life continue to increase, more and more people are pursuing a healthy and comfortable life, and people have higher requirements for the quality of underwear. On the one hand, the wearer hopes to reduce the restraint feeling of the underwear as much as possible and improve the comfort of wearing it. On the other hand, the wearer hopes that the underwear has better functions such as shaping and has a beautiful appearance.
In order to improve the shaping effect of the existing underwear, steel rings or other supports are usually arranged inside the underwear to support the chest. This kind of underwear is harmful to human health; while some underwear without steel rings, there will also be sewing stitches or folded edging structures at the edge. These structures will cause squeezing or friction on the human skin, which is also harmful to human health and poor comfort. Therefore, as soon as Seamless underwear came out, it was sought after by more and more women.
What is seamless underwear?
Seamless underwear is a special type of underwear. There are no visible stitches in the outer area. This gives the underwear a close fit, eliminating bulky seams and edges that cause a visible panty line. Seamless panties, bras, and shapewear help create a smooth silhouette, making them ideal for wearing under tightly fitted pants, skirts, and dresses.
What is the method of seamless underwear?
The seamless underwear is based on glue sticking, ultrasonic hot pressing, and other technologies, instead of traditional sewing technology, using environmentally friendly, non-toxic, internationally-certified high-elastic high-temperature glue, through professional seamless underwear dot glue machine, Fusing Machine, high-temperature hot pressing machine, and other methods make the seamless underwear fit perfectly.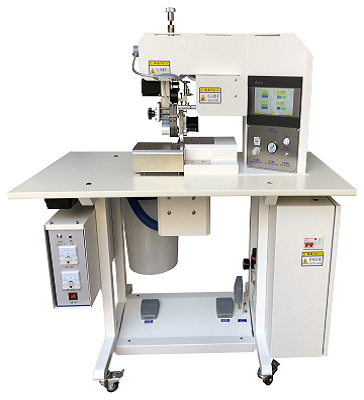 What is seamless underwear dot glue machine、fusing machine、pressing machine?
Seamless underwear dot glue machine also called seamless underwear automatic glue dots applicator or seamless underwear dispenser. It can apply glues on any surface in apparel manufacturing.
A seamless fusing machine is a machine that can fuse fabrics by adjusting the heat, pressure, and heat pressing time.
The seamless pressing machine is a professional heating machine that makes seamless clothing such as underwear, t-shirt, yoga clothes, and tent.
Seamless Underwear Dot Glue Machine、Fusing Machine、Pressing Machine supplier
MASCOON is focused on providing the best seamless solutions to our clients. We specialize in supplying kinds of seamless bonding machines, folding machines, gluing machines, hot air seam sealing machines, ultrasonic cutting machines, label printing machines, label cutting machines, etc. Welcome to contact us if you have any needs.